ESG & Sustainable Finance
Date:
Friday, March 3, 2023
Location:
University Community Centre (UCC)
McKellar Room

Export: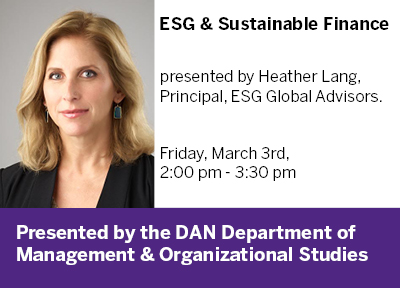 ESG & Sustainable Finance
Friday, March 3rd,
2:00 pm - 4:00 pm
McKellar Room, UCC

presented by Heather Lang, Principal, ESG Global Advisors.
Heather Lang is passionate about ESG and sustainable finance, with two decades of related professional experience. She has worked with leading global institutional investors, financial institutions and corporations to advance ESG integration and allocate capital to sustainable solutions. As a Principal at boutique consultancy, ESG Global Advisors, Heather is a frequent presenter on ESG and sustainable finance topics at conferences and webinars. The majority of her career was spent working for leading global ESG research and rating provider, Sustainalytics, where she wore multiple hats over an 18-year period including, ESG research, client relations and corporate solutions.