U.S. Healthcare: Problems and Promises
Date:
Thursday, March 30, 2023
Location:
University Community Centre (UCC)
Room: McKellar Room

Export: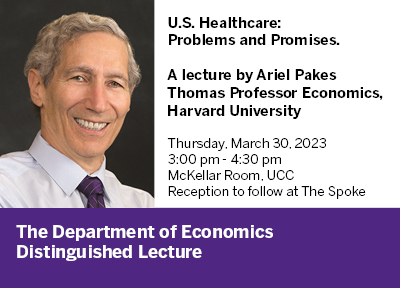 The 2023 Department of Economics Distinguished Lecture: U.S. Healthcare: Problems and Promises.
Delivered by Ariel Pakes
Thomas Professor Economics
Harvard University
https://scholar.harvard.edu/pakes/biocv

Thursday, March 30, 2023
3:00 to 4:30 p.m.
McKellar Room, University Community Centre
Reception to follow at The Spoke

Ariel Pakes is the Thomas Professor of Economics in the Department of Economics at Harvard University, where he teaches courses in Industrial Organization and Econometrics.

Ariel's research has focused on developing methods for empirically analyzing market responses to environmental and policy changes.

Ariel also developed techniques for: analyzing the impacts of privately funded research and development activity, for constructing a more accurate Consumer Price Index, and for analyzing the impact of incentive schemes on the hospital allocations of doctors.

Many of Ariel's methodological contributions have been incorporated into the work of government agencies and private firms.