The Webbs of Green Gables
Date:
Thursday, December 8, 2022
Export: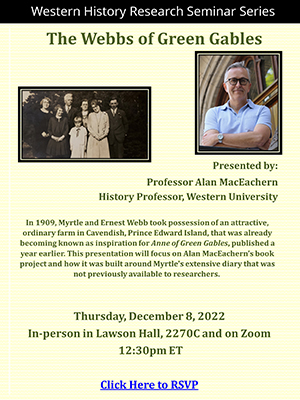 The History Department is welcoming it's own Professor Alan MacEachern as it's fourth Research Seminar Series speaker. Professor MacEachern will speak about the Webb family and their life as owners of the famous 'Anne of Green Gables' home.
In 1909, Myrtle and Ernest Webb took possession of an attractive, ordinary farm in Cavendish, Prince Edward Island. This farm house was already developing fame as the inspiration for Anne of Green Gables, which was published a year earlier.
Professor MacEachern will speak about his book project, which was very much built around Myrtle's extensive diary, not previously available to researchers!
This event will be held both in-person and via Zoom.
There will be a 'make your own' hot chocolate bar provided, starting at 12 pm!
Please email historyrsvp@uwo.ca to request the Zoom link if you would like to attend virtually.