The SmartICE Journey
Date:
Friday, November 25, 2022
Location:
Delivered on Zoom

Export: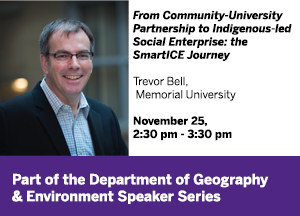 From Community-University Partnership to Indigenous-led Social Enterprise: the SmartICE Journey
Trevor Bell, University Research Professor
in Geography at Memorial University

Friday, November 25th , 2022
2:30-3:30pm

Zoom Meeting ID: 918 6527 1351
This presentation will provide an introduction to SmartICE (smartice.org), an Indigenous-led social enterprise that empowers northern communities to adapt to increasingly unpredictable ice conditions with remote monitoring technology and Indigenous knowledge. I will describe our transformation from an initial community-university-government partnership to a social enterprise business model. SmartICE's partnership with communities is guided by the Sikumiut-SmartICE model, a cross-cultural approach to ice monitoring and research that supports Indigenous self-determination and adopts Indigenous societal values. SmartICE is helping communities to document and share their Indigenous Knowledge of ice travel safety through the production of Sikumik Qaujimajjuti ("tools to know how the ice is"). These tools include ice terminology books, travel safety posters, seasonal hazard maps, weekly community ice travel safety maps, and sea ice change atlases.
Trevor Bell, University Research Professor in Geography at Memorial University, is a champion of issues surrounding climate change and Indigenous people in the Arctic. In recognition of the significance of his research to his discipline, policy change, and the community, Dr. Bell was named a Fellow of the Royal Society of Canada. His most recent partnership— SmartlCE—has transformed into a social enterprise recognized by the United Nations (2017) for its novel climate solution, and the Governor General's Innovation Award (2019) for its "truly exceptional, transformative, and positive impact on quality of life in Canada". In 2021, Trevor received the inaugural Frederik Paulsen Arctic Academic Action Award and the Martin Bergmann Medal for Excellence in Arctic Leadership for his ground-breaking achievements on climate change adaptation.