Diabolical Arts in New France: Demonic Possession
Date:
Thursday, October 13, 2022
Export: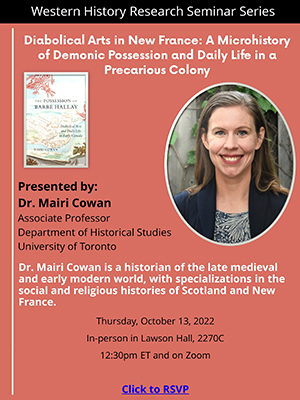 The History Department's latest Research Seminar Series of the fall 2022 semester will feature Dr. Mairi Cowen as she looks at the precarious colony of Quebec during the 1660's.
Not long after the ships left Québec to return across the Atlantic in the autumn of 1660, residents of the small French settlement began to worry about evil forces in their midst.
Dr. Cowen provides a microhistorical approach to studying accounts of the demonic infestation, offering a glimpse into the details of daily life that do not usually leave much of a trace in the historical record.
This event will be in-person and via Zoom.
Please email historyrsvp@uwo.ca to rsvp and receive the Zoom link.