Urban Outmigration in Times of Covid
Date:
Wednesday, August 3, 2022
Time:
10:00 am - 11:30 am
Export: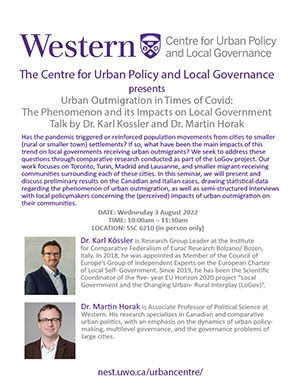 Urban Outmigration in Times of Covid: The Phenomenon and its Impacts on Local Government
Talk by Dr. Karl Kossler and Dr. Martin Horak
Wednesday, August 3, 2022
10:00 am - 11:30 am
SSC 6210 (in-person only)
Has the pandemic triggered or reinforced population movements from cities to smaller (rural or smaller town) settlements? If so, what have been the main impacts of this trend on local governments receiving urban outmigrants? We seek to address these questions through comparative research conducted as part of the LoGov project. Our work focuses on Toronto, Turin, Madrid and Lausanne, and smaller migrant-receiving communities surrounding each of these cities. In this seminar, we will present and discuss preliminary results on the Canadian and Italian cases, drawing statistical data regarding the phenomenon of urban outmigration, as well as semi-structured interviews with local policymakers concerning the (perceived) impacts of urban outmigration on their communities.
Dr. Karl Kossler is Research Group Leader at the Institute for Comparative Federalism of Eurac Research Bolzano/Bozen, Italy. In 2018, he was appointed as Member of the Council of Europe's Group of Independent Experts on the European Charter of Local Self-Government. Since 2019, he has been the Scientific Coordinator of the five-year EU Horizon 2020 project "Local Government and the Changing Urban-Rural Interplay (LoGov)".
Dr. Martin Horak is Associate Professor of Political Science at Western. His research specializes in Canadian and comparative urban politics, with an emphasis on the dynamics of urban policy-making, multilevel governance, and the governance problems of large cities.
Presented by The Centre for Urban Policy and Local Governance