Panel Discussion: Climate change and the city
Date:
Thursday, March 31, 2022
Location:
University Community Centre (UCC)
Room: 56

Export: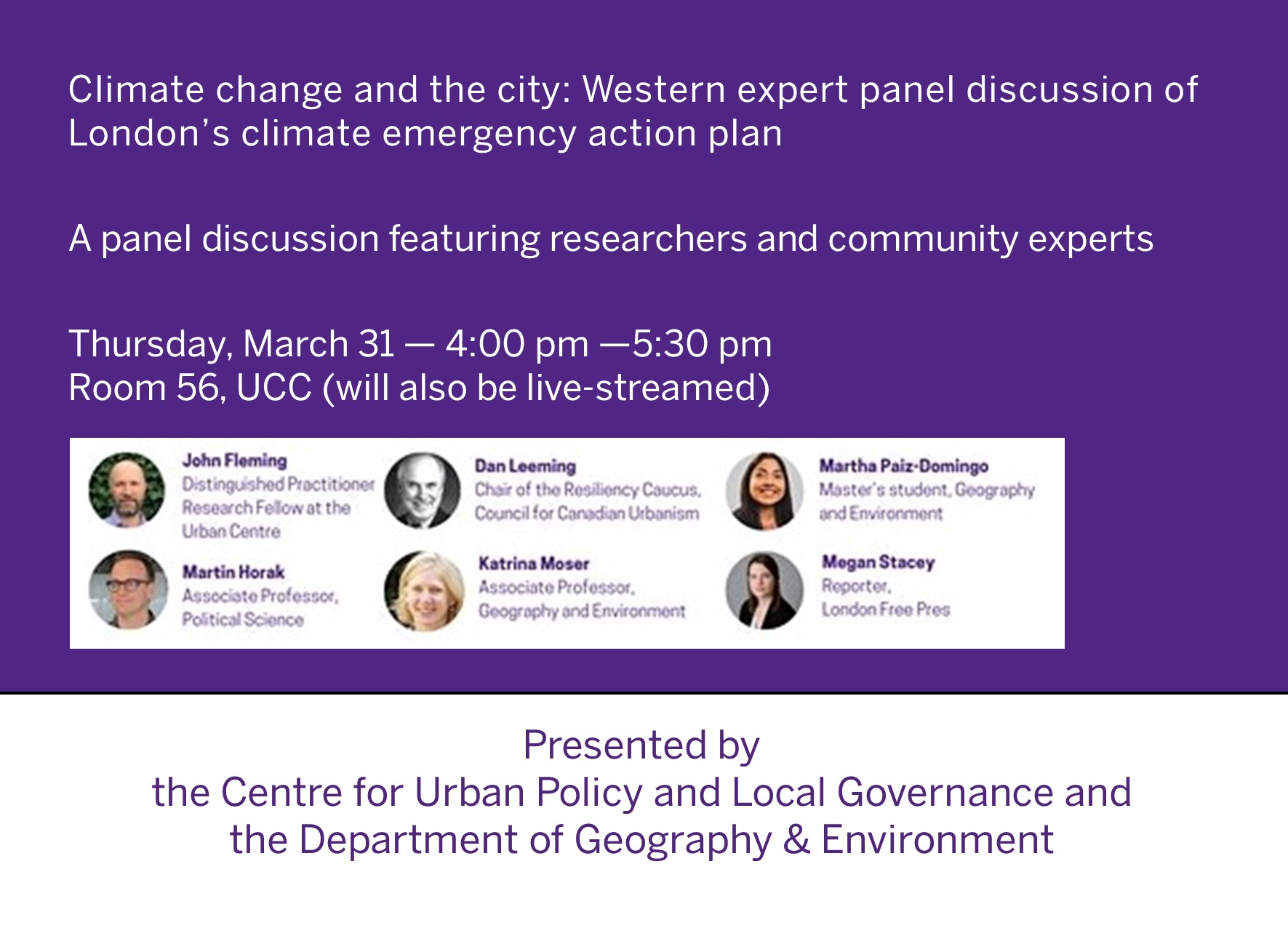 Climate change and the city: Western expert panel discussion of London's climate emergency action plan
When: 31 March 2022, 4 - 5:30pm Eastern.
Where: in person in Room UCC 56 and live-streamed via zoom.
Please note that in-person attendance is capped due to room capacity.
Zoom: https://westernuniversity.zoom.us/j/92407634976pwd=WWRnMzI5WXJEUC95ZUpoaE1aRDZtdz09

Meeting ID: 924 0763 4976

Passcode: 003236
The City of London released its draft climate emergency action plan in February 2022. What are its strengths? What can be improved? How will cities confront the challenges of climate change?

Moderator and discussant: John Fleming, Distinguished Practitioner Research Fellow at the Urban Centre

Panelists:
Martin Horak, Associate Professor, Political Science
Dan Leeming, Chair of the Resiliency Caucus, Council for Canadian Urbanism
Katrina Moser, Associate Professor, Geography and Environment
Martha Paiz-Domingo, Master's student, Geography and Environment
Megan Stacey, Reporter, London Free Press

Presented by the Centre for Urban Policy and Local Governance (NEST) and the Department of Geography and Environment, Western, with the support of the Centre for Climate Change, Sustainable Livelihoods and Health and the Council for Canadian Urbanism.