Overcoming Business Challenges - John Sleeman
Date:
Friday, March 4, 2022
Location:
Virtual meeting on Zoom

Export: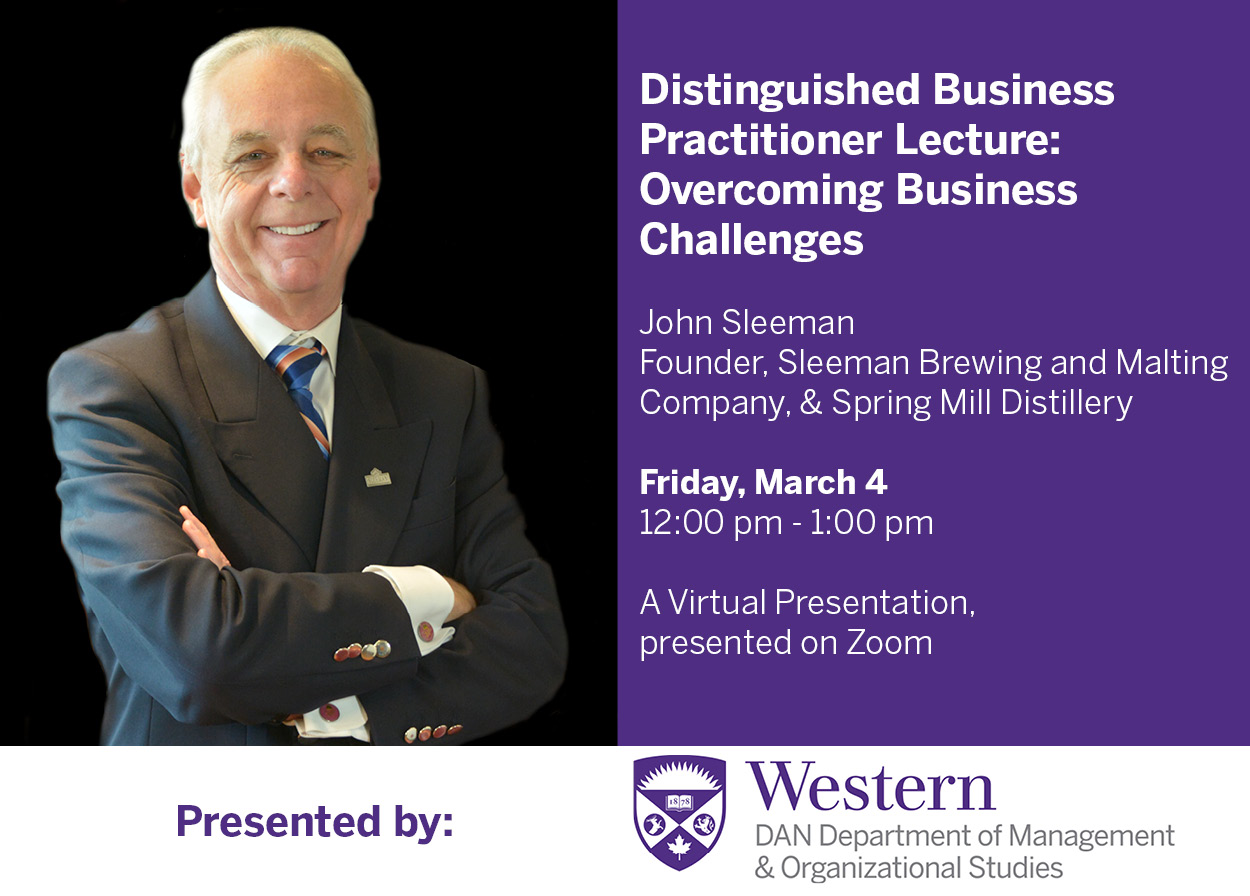 Distinguished Business Practitioner Lecture: Overcoming Business Challenges
John Sleeman
Founder, Sleeman Brewing and Malting Company, & Spring Mill Distillery
Friday, March 4th,
12 pm -1 pm
Presented online through Zoom
Register in advance: https://westernuniversity.zoom.us/meeting/register/tJAvcemvqT0tHNXV_uY7VQL9JOhLTJUxqT-u

John Sleeman is one of Canada's best-known entrepreneurs and businessmen. At 23, he launched the first of his successful businesses, a British-style pub, followed by The Imported Beer Company. In 1985, he restarted his family's Sleeman Brewing and Malting Company, and actively remains Founder and Chairman. In 2019, he relaunched the Sleeman family spirits business, Spring Mill Distillery. The two latter businesses are based in Guelph, Ontario. Mr. Sleeman is a member of the YPO/WPO leadership community and has served on multiple industry organizations. Among others, he was Chairman of the Duke of Edinburgh's International Award Charter for Business and Chair of the Development Committee for the Alcoholic Beverage Medical Research Foundation. John received the Queen Elizabeth II Golden Jubilee medal in 2002 and the Diamond Jubilee medal in 2012. He was named Patron by The British Canadian Chamber of Trade and Commerce and was awarded the Honourable Company of Freemen Meritorious Medal in 2017. He holds an honorary degree from the University of Guelph and is a proud recipient of the Order of Canada.