Community Engagement in Housing Politics
Date:
Friday, February 4, 2022
Location:
Delivered on Zoom

Export: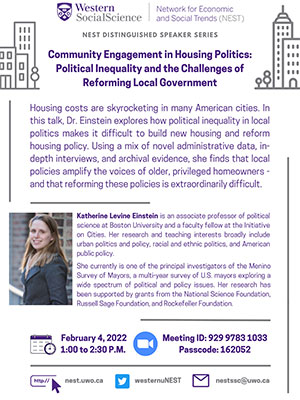 Community Engagement in Housing Politics: Political Inequality and the Challenges of Reforming Local Government
Dr. Katherine Levine Einstein,
Boston University,
Friday, February 4, 2022 at 1:00 pm.
Join Zoom Meeting
https://westernuniversity.zoom.us/j/92997831033?pwd=RVBoZkpwQUxYQWxGYk1jYlc5T2xPZz09
Meeting ID: 929 9783 1033
Passcode: 162052
Housing costs are skyrocketing in many American cities. In this talk, Dr. Einstein explores how political inequality in local politics makes it difficult to build new housing and reform housing policy. Using a mix of novel administrative data, in­depth interviews, and archival evidence, she finds that local policies amplify the voices of older, privileged homeowners -and that reforming these policies is extraordinarily difficult.

Katherine Levine Einstein is an associate professor of political science at Boston University and a faculty fellow at the Initiative on Cities. Her research and teaching interests broadly include urban politics and policy, racial and ethnic politics, and American public policy.
She currently is one of the principal investigators of the Menino Survey of Mayors, a multi-year survey of U.S. mayors exploring a wide spectrum of political and policy issues. Her research has been supported by grants from the National Science Foundation, Russell Sage Foundation, and Rockefeller Foundation.
Part of the NEST Distinguished Speaker Series