The Politics & Analytics of Indigenous Water Relations
Date:
Friday, January 21, 2022
Location:
Delivered on Zoom

Export: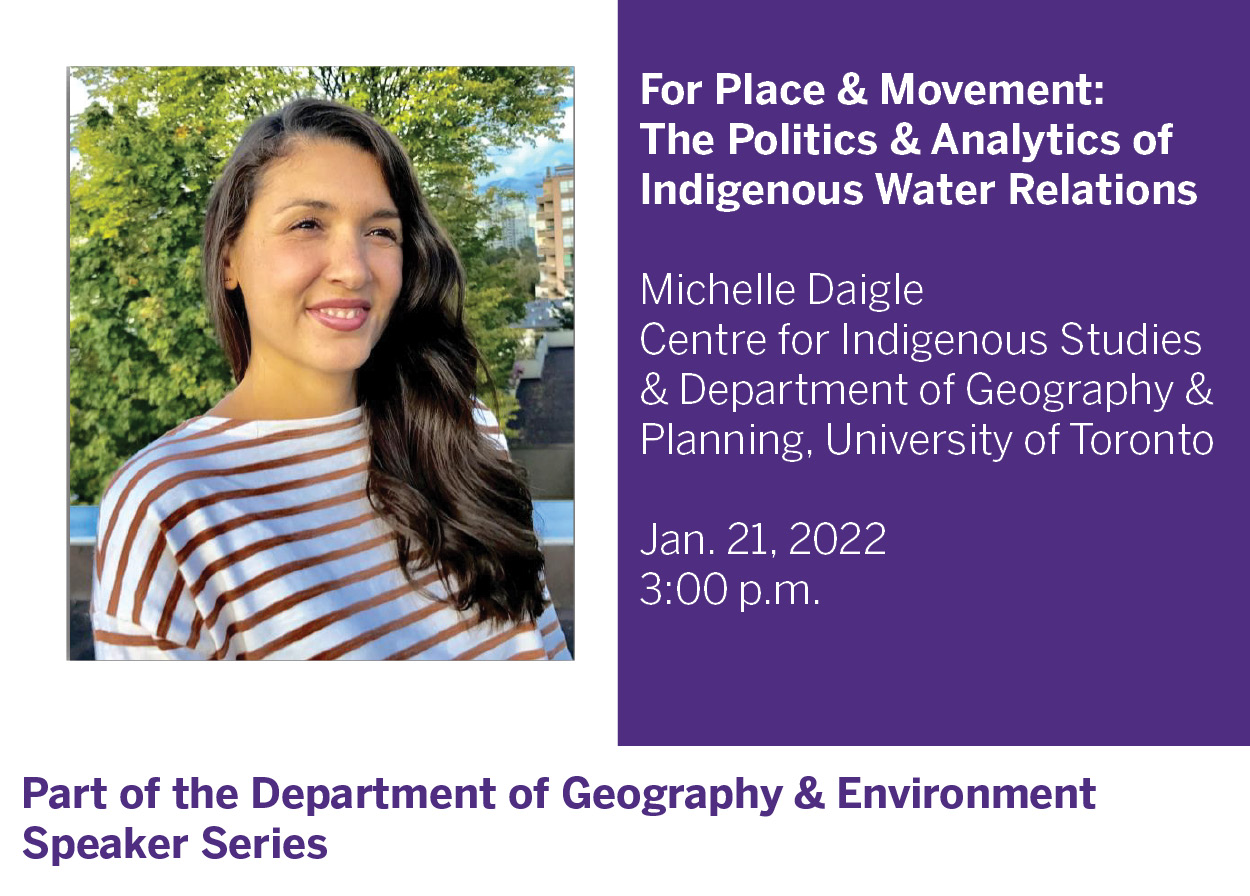 For Place & Movement: The Politics & Analytics of Indigenous Water Relations
Michelle Daigle
Assistant Professor in the Centre for Indigenous Studies and the Department of Geography & Planning at the University of Toronto
Friday, January 21
3:00 pm - 4:00 pm
Delivered on Zoom
Meeting ID: 920 1911 8555
Passcode: SPEAKER
The fields of Indigenous Geographies and Indigenous Studies have provided crucial theorizations on Indigenous place-based ontologies and practices, and how ties to place are at the core of Indigenous understandings of environmental dispossession and alternative decolonial futures. In this presentation, I build on this scholarship by examining the politics and analytics of Indigenous mobilities.
My analysis emerges from Mushkegowuk movement on regional waterways in and beyond so-called northern Ontario Canada. In particular, I examine how rivers are a site of confluence, and how movement on such rivers elucidates the connectivity of extractive geographies from the "Ring of Fire" mining developments in rural areas, to seemingly incompatible spaces of colonial violence against Indigenous peoples in urban centers such as Thunder Bay. Simultaneously, I am interested in the political possibilities that are activated through Indigenous movement, by considering the expansiveness of Indigenous kinship and relationalities.
Michelle Daigle is Mushkegowuk, a member of Constance Lake First Nation in Treaty 9, and of French ancestry. She is an Assistant Professor in the Centre for Indigenous Studies and the Department of Geography & Planning at the University of Toronto. Her research examines Indigenous resurgence and freedom within the global conditions of colonial capitalist violence
Part of the Department of Geography & Environment Speaker Series