Bucke Prize Lecture 2106
Date:
Tuesday, April 26, 2016
Location:
Physics & Astronomy Building (PAB)
Room: 100

Export: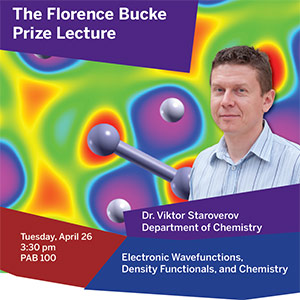 The 2016 Florence Bucke Prize recipient is Viktor Staroverov who will speak on "Electronic Wavefunctions, Density Functionals, and Chemistry"
All of chemical structures and processes can in principle be modeled by solving the Schroedinger equation - a partial differential equation for the electronic wavefunction. Owing to their complexity, exact wavefunctions cannot be obtained in practice except for very simple or artificial systems, but there exists a dazzling variety of approximation techniques. An alternative to solving the Schroedinger equation is density-functional theory (DFT), a method in which the molecule's energy and other properties are obtained via approximate functionals of the electron density. Our research group has advanced DFT by explicitly linking it with the Schroedinger equation. I will survey the recent progress in this field and show how, by thinking about DFT in a new way, one can obtain physical insights and better approximations for computing molecular properties.
A reception in the Atrium will follow.