SASAH Speakers' Series: Natalie Alvarez and Jennifer Lavoie
Date:
Tuesday, March 14, 2023
Location:
University Community Centre (UCC)
Room: 67

Export: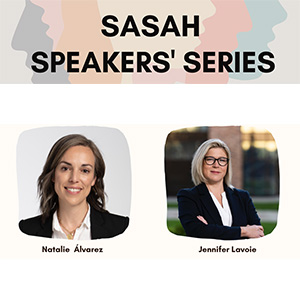 Leveraging the Performance Paradigm and Community Co-Design to Improve Police Response to Mental Health Crisis.
March 14 from 11:30 AM -1:00 PM EST in UCC 67
Onsite registration: https://www.eventbrite.com/e/sasah-speakers-series-presents-natalie-alvarez-and-jennifer-lavoie-tickets-558050703677
Natalie Alvarez is Associate Dean of Scholarly, Research and Creative Activities at Toronto Metropolitan University and Professor of Theatre and Performance Studies in the School of Performance with research specializations in performance studies, contemporary political performance and rights emergencies in the Americas, immersive performance in the public sphere, Latinx diasporic performance, art activism, and scenario-based pedagogy. Natalie is the Principal Investigator of a four-year SSHRC Insight Grant, "Scenario Training to Improve Interactions Between Police and Individuals in Mental Health Crisis: Impacts and Efficacy", which uses performance as a nexus for multidisciplinary research across the humanities and social sciences.
Jennifer Lavoie is cross-appointed to the Departments of Criminology and Psychology at Wilfred Laurier University, and her academic background is primarily based in training as an experimental forensic psychologist. She conducts nationally and provincially funded research focused on police interactions with people in mental health crisis. Her program of work investigates the effectiveness of police de-escalation and crisis response training models, the use of co-response models, and police decision-making during encounters with citizens in mental health crises. She is currently leading and working in partnership on a number of research initiatives to develop, produce and test de-escalation and crisis intervention training for frontline police officers using high fidelity, immersive virtual reality simulations.