Fridays at 12:30 Concert Series: Far and Wide
Date:
Friday, November 24, 2023
Location:
Music Building (MB)
Room: von Kuster Hall

Export: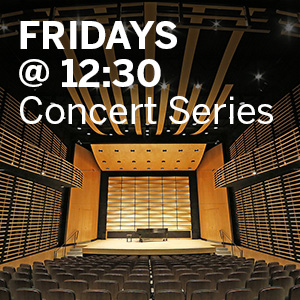 The Fridays @ 12:30 Concert Series presents Far and Wide: Contemporary Canadian music by women composers across Canada, celebrating works of living female composers from across Canada featuring a world premiere of Larysa Kuzmenko's piano duo made possible by the Canada Council for the Arts. Pianist Trevor Chartrand joins Christine Tithecott*, piano; Ronald George*, French horn; Bethany Hörst*, soprano; Sharon Kahan*, flute; Jana Starling*, clarinet; and Bobbi Thompson*, saxophone.
This event is also available via livestream.
https://music.uwo.ca/events/livestream/
For more "Fridays" events visit:
https://music.uwo.ca/events/fridays.html
All are welcome to attend. No advance registration or tickets required. Simply attend and enjoy!


End times are approximate.


Download digital event programs on the concert programs page up to one week in advance, or on your smartphone when you arrive. Printed copies are not provided.


Attending an event in person? Changes happen! Check this calendar listing before you leave home and check our Audience Information webpage for always-up-to-date general information, including health and safety protocols.
Sign up for the Don Wright Faculty of Music's monthly email to be notified of all planned events and for notifications of schedule changes.
*Western University faculty member(s)
Event Type:
Audience:
Department: