Fridays at 12:30 Concert Series: The Viano String Quartet
Date:
Friday, September 15, 2023
Location:
Music Building (MB)
Room: von Kuster Hall

Export: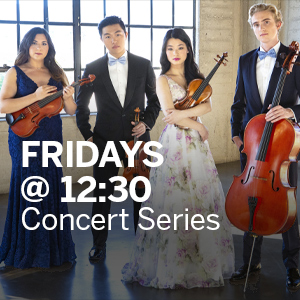 The Fridays @ 12:30 Concert Series presents the award-winning Viano String Quartet, joined by guest artists Scott St. John, viola; Sharon Wei*, viola; and David Liam Roberts, cello. The program will consist of two works: Schoenberg's Verklärte Nacht (Transfigured Night) performed by the Viano String Quartet alongside Scott St. John and David Liam Roberts, and Mendelssohn's String Quintet in B flat major, Op. 87 where the quartet will be joined by Sharon Wei*.
This event is also available via livestream.
https://music.uwo.ca/events/livestream/
For more "Fridays" events visit:
https://music.uwo.ca/events/fridays.html
All are welcome to attend. No advance registration or tickets required. Simply attend and enjoy!


End times are approximate.


Download digital event programs on the concert programs page up to one week in advance, or on your smartphone when you arrive. Printed copies are not provided.


Attending an event in person? Changes happen! Check this calendar listing before you leave home and check our Audience Information webpage for always-up-to-date general information, including health and safety protocols.
*Western University faculty member(s)
Sign up for the Don Wright Faculty of Music's monthly email to be notified of all planned events and for notifications of schedule changes.
Event Type:
Audience:
Department: