Fridays at 12:30 Concert Series: Intercâmbio
Date:
Friday, September 22, 2023
Location:
Music Building (MB)
Room: von Kuster Hall

Export: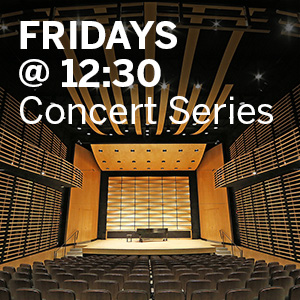 The Fridays @ 12:30 Concert Series presents Intercâmbio - Brazilian and Canadian Music for Trumpets. Trumpeters Aaron Hodgson* and DMA student Nikola Locatelli perform a musical exploration of Canadian and Brazilian soundscapes that showcase notable historical voices such as Calixa Lavallée and Santana Gomes alongside contemporary composers including Cait Nishimura and Fernando Morais. Joining the trumpeters for this performance is collaborative pianist and alumna, Yolanda Tapia.
This event is also available via livestream.
https://music.uwo.ca/events/livestream/
For more "Fridays" events visit:
https://music.uwo.ca/events/fridays.html
All are welcome to attend. No advance registration or tickets required. Simply attend and enjoy!


End times are approximate.


Download digital event programs on the concert programs page up to one week in advance, or on your smartphone when you arrive. Printed copies are not provided.


Attending an event in person? Changes happen! Check this calendar listing before you leave home and check our Audience Information webpage for always-up-to-date general information, including health and safety protocols.
*Western University faculty member(s)
Sign up for the Don Wright Faculty of Music's monthly email to be notified of all planned events and for notifications of schedule changes.
Event Type:
Audience:
Department: