Curator-led Tour of The View from Here
Date:
Saturday, April 29, 2023
Location:
McIntosh Gallery (MG)

Export: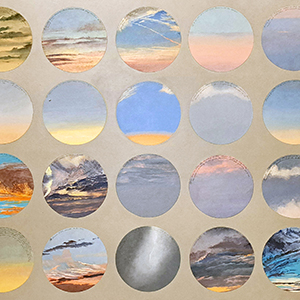 The View From Here
Curated by Jennie Kraehling

On from March 30 – June 16, 2023, at McIntosh Gallery

The View From Here brings together artworks from the McIntosh Gallery permanent collection that evoke a particular perspective, moment in time, landscape, or space. Whether painting, photograph, sculpture, projection or video, each artwork becomes a window through which the artist transports you to a specific place, focusing your attention on their particular way of looking to create a unique narrative that provides valuable insight into their creative process. Read more

Join exhibition curator Jennie Kraehling for a guided tour of The View From Here at McIntosh Gallery on Saturday, April 29 at 2:00 p.m. All are welcome to attend this free event.

Please note that parking in attended lots at Western University is complimentary on weekends except when special event rates apply. Refer to Western University's Parking Services website for more information. We regret that McIntosh Gallery is not wheelchair accessible.
The Flora J. Tripp Memorial Fund was established in 2017 through the Flora and Ian Tripp Endowment Fund in honour of Maurice C. Stubbs for his many contributions to the visual arts community as an artist and McIntosh Gallery's first permanent curator (1969 to 1989).

Based on funding available, McIntosh Gallery administers two programs: a Collections Management Internship designed for university students to learn about the operations of a public gallery and its responsibilities to research, conserve, document and interpret a collection held in the public trust; and a Curator in Residence Program for curators to research the McIntosh Gallery collection of contemporary Canadian art and to organize exhibitions and publications based on this research.