Coxford Lecture -- The Right Honourable David Johnston
Date:
Wednesday, March 27, 2019
Location:
Josephine Spencer Niblett Law Building (LB)
Room: 38

Export: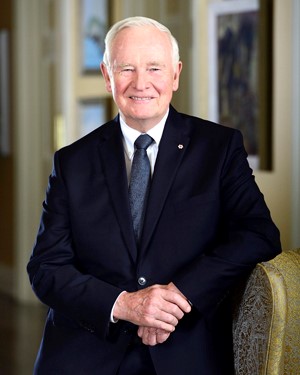 The Right Honourable David Johnston, former Governor General of Canada, will deliver the 10th Annual Coxford Lecture at Western Law on Wednesday, March 27, 2019 at 12:30 p.m. in Rm. 38.

The Coxford Lecture is generously supported by Western Law alumnus Stephen R. Coxford, LL.B. '77.

David Johnston's professional career began in 1966 as assistant professor in the Queen's University law faculty. He moved on to the University of Toronto's law faculty in 1968, and became dean of Western University's law faculty from 1974 - 1979. He was named principal and vice-chancellor of McGill University in 1979, serving for fifteen years before returning to teaching as a full-time professor in the McGill Faculty of Law. In June 1999, he became the fifth president and vice-chancellor of the University of Waterloo, serving until 2010 when he was asked to serve as Canada's 28th governor general.

Throughout his career, he has served on numerous provincial and federal task forces and committees, as well as on the boards of a number of public companies. He was president of the Association of Universities and Colleges of Canada (now Universities Canada) and of the Conférence des recteurs et des principaux des universités du Québec. He was also the founding chair of the National Round Table on the Environment and the Economy, and he chaired the Canadian Institute for Advanced Research, the federal government's Information Highway Advisory Council and was the first non-American to chair Harvard's Board of Overseers.

Mr. Johnston is the author or co-author of numerous books, and his most recent, Trust: Twenty Ways to Build a Better Country, was published in 2018. He holds honorary doctorates from more than 25 universities and learning institutions in Canada, China and India. He was invested as an officer of the Order of Canada in 1988 and promoted to companion, the Order's highest level, in 1997.

His motto while Governor General was CONTEMPLARE MELIORA, meaning "To envisage a better world," which refers to his belief in the abilities of all Canadians to imagine and create a smarter, more caring nation and contribute to a fairer, more just world.
Department: