Coxford Lecture -- The Right Honourable David Johnston
Date:
Wednesday, March 27, 2019
Location:
Josephine Spencer Niblett Law Building (LB)
Room: 38

Export: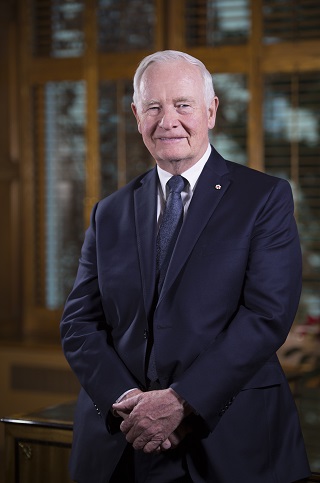 The Right Honourable David Johnston, the 28th Governor General of Canada, will deliver the 10th Annual Coxford Lecture speaking on "Seeking the Good: The lawyer's commitment to professionalism and the rule of law"
The rule of law, married to the constant pursuit of justice, is what makes us free. How do we take a strong foundation and make it better? In his career as both University president and 28th Governor General of Canada, The Right Honourable David Johnston has developed a profound admiration for how precious the rule of law is in our country, and how thin and vulnerable its veener can be.

The Right Honourable David Johnston
C.C.. Governor General of Canada, 2010- 2017
Chair of the Rideau Hall Foundation

The Right Honourable David Johnston was Canada's 28th governor general. During his mandate, he established the Rideau Hall Foundation (RHF), a registered charity that supports and amplifies the Office of the Governor General in its work to connect, honour and inspire Canadians. Today, he is actively involved as Chair of the RHF Board of Directors; serves as an Executive Advisor at Deloitte; and, Global Advisor to Fairfax. In 2018, he was appointed Colonel to the Royal Canadian Regiment. Prior to his installation as governor general, Mr. Johnston was a professor of law for 45 years, and served as President of the University of Waterloo for two terms, Principal of McGill University for 3 terms. He was president of the Association of Universities and Colleges of Canada and of the Conférence des recteurs et des principaux des universités du Québec. He was the first non-U.S. citizen to be elected chair at Harvard University's Board of Over-seers from which he graduated in 1963 magna cum laude and was twice named all-American in hockey and was named to Harvard's Athletic Hall of Fame. He holds degrees from Harvard, Cambridge and Queen's and has received 35 honorary degrees or fellowships. He has authored or co-authored 28 books. He has served on many provincial and federal task forces and committees, and has served on the boards of a number of public companies. He has been married for 54 years to Sharon and they have 5 daughters and 14 grandchildren.
Department: