What a Lawyer Needs to Know About Tax Law
Date:
Thursday, March 8, 2018
Location:
Josephine Spencer Niblett Law Building (LB)
Room: 52

Export: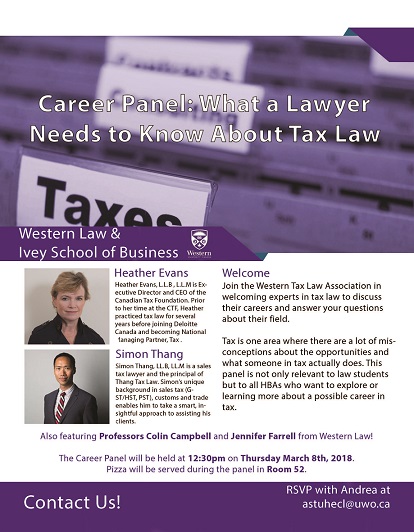 Presented by Western Law & Ivey School of Business
Join the Western Law Tax Law Association in welcoming experts in tax law to discuss their careers and answer your questions about their field.
Tax is one area where there are a lot of misconceptions about the opportunities and what someone in tax actually does. This panel is not only relevant to law students but to all HBAs who want to explore or learn more about a possible career in tax.
Please RSVP with Andrea @ astuhecl@uwo.ca
Panel:
Heather Evans, LL.B., LL.M.
Executive Director and CEO of the Canadian Tax Foundation
Simon Thang, LL.B., LL.M.
Sales tax lawyer and the principal of Thang Tax Law
Professor Jennifer Farrell
Western Law
Professor Colin Campbell
Western Law
Pizza will be served during the panel in Room 52.
Department: