Orange Shirt Flag Raising
Date:
Monday, September 25, 2023
Location:
University Community Centre (UCC)
Concrete Beach

Export: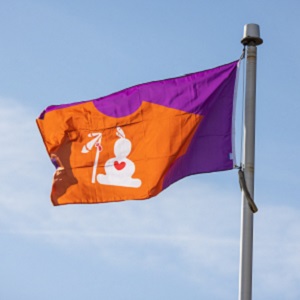 September 30th marks the 3rd annual National Day for Truth and Reconciliation in Canada and the 11th annual Orange Shirt Day. A time to honour and remember the children and survivors of Residential Schools in Canada.
You are invited to come to Concrete Beach at Western University on SEPTEMBER 25TH, 2023 to observe our NDTR flag raising. We have invited the Oneida Women's singers to sing while we raise the flag to honour all the children that didn't come home, those that are still missing and those who survived.
To learn more about Truth and Reconciliation and about the activities planned for that week in London, visit the Office of Indigenous Initiatives webpage: https://indigenous.uwo.ca/NDTR
Schedule:
10:00am- Opening from Knowledge Keeper
10:05am- Words from the Office of Equity, Diversity and Inclusion
10:15am- Words from the Office of Indigenous Initiatives
10:25am- Words from the Indigenous Student Association
10:30am- Flag Raising with Oneida Singers
10:45am- Closing Remarks
Following the event, we will be offering a light lunch as a take and go, served at the Indigenous Student Centre, WSSB 2100.
Western is committed to accessibility for persons with disabilities. Please contact us in advance if you have any particular accommodation requirements. – Marisa Geris Cabral, 519-661-2111 ex. 88567, mgeris@uwo.ca.
Contact:
Marisa Geris Cabral - Community Enhancement Coordinator
mgeris@uwo.ca
519-661-2111 ex: 88567
Audience: