WORLDiscoveries Technology Transfer Webinar
Date:
Thursday, February 25, 2021
Register by:
Wednesday, February 24, 2021
Location:
Western University
Room: Zoom Webinar
1151 Richmond St, London, ON
London, ON
Export: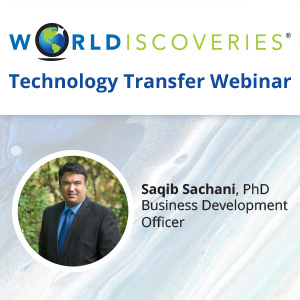 WORLDiscoveries Technology Transfer Webinar
Path to Research Commercialization, Technology Transfer and Commercialization Funding
Presented by:
Saqib Sachani, PhD
Business Development Officer
Objectives:
1. Introduction to Technology Transfer
2. Technology Transfer Process at Western
3. Commercialization of Research Tools and Reagents
4. Research Commercialization Funding Opportunities
OPEN TO ALL FACULTY, POST-DOCS, STUDENTS AND STAFF.