WORLDiscoveries Technology Transfer Webinar
Date:
Wednesday, June 24, 2020
Register by:
Tuesday, June 23, 2020
Location:
Western University
Room: Zoom Webinar
1151 Richmond St, London, ON
London, ON
Export: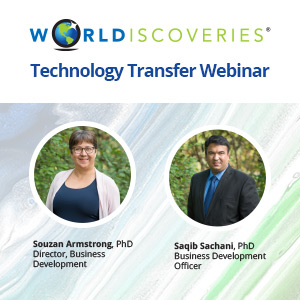 WORLDiscoveries Technology Transfer Webinar
Path to Research Commercialization, Technology Transfer and Commercialization Funding
Souzan Armstrong, PhD Director of Business Development and Saqib Sachani, PhD Business Development officer present this webinar.
Objectives:
1. Introduction to Technology Transfer
2. Technology Transfer Process at Western
3. Commercialization Funding Opportunities
OPEN TO ALL FACULTY, POST-DOCS, STUDENTS AND STAFF.