Creativity Workshop with Beau Dixon
Date:
Wednesday, March 15, 2023
Location:
FIMS and Nursing Building (FNB)
Room: Creative Commons (2nd floor)

Export: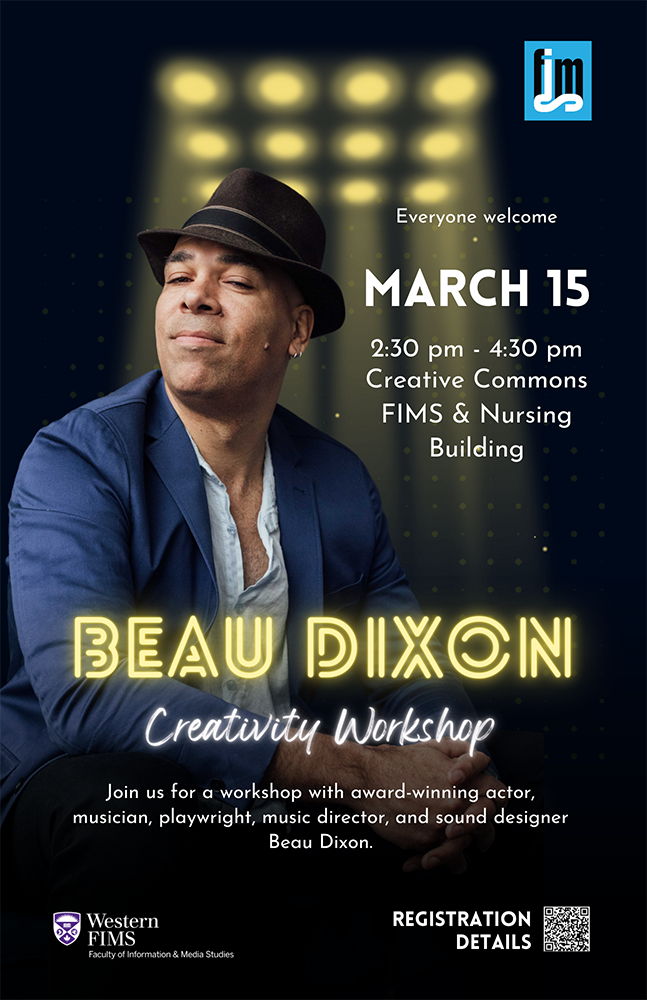 Please join us for a rare informal workshop with award-winning actor, musician, playwright, music director, and sound designer Beau Dixon on Wednesday, March 15, 2023.
Everyone is welcome to register.
Beau Dixon will be performing live, speaking about his work and process as an artist, and sharing stories about his experiences working on his musical cabaret Freedom: The Spirit and Legacy of Black Music as well as other projects. The event will be immersive and feature opportunities to participate in the music making and storytelling.
The workshop will be facilitated by Dr. Basil Chiasson, Faculty of Information and Media Studies (FIMS).
Registration Details:
To register visit Western Connect. For questions, contact Jo Devereux at jdevereu@uwo.ca
Beau Dixon Artist Biography
Beau Dixon was born in Detroit and his first music gig was at age twelve, playing piano for his father's church services in London, Ontario. Over the years, he has evolved his talents as a singer, multi-instrumentalist, music director, and composer, performing in Canada and internationally, releasing original recordings, and collaborating with a range of artists. As an actor, Beau has performed on many stages throughout Canada and has been repeatedly listed, by NOW Magazine and the Toronto Star, as one of the top ten theatre actors in Toronto. Dixon's plays have been commissioned, performed, and produced across the country; his award-winning play Beneath Springhill: The Maurice Ruddick Story is published by Scirocco Drama Books and won a Calgary Critic's Award for Best Individual Performance and two Dora Mavor Moore Awards for Best New Play and Best Individual Performance. Dixon was nominated for a Dora Award for his sound design on a production of Nicolas Billon's Rifles at the Shaw Festival and Praxis Theatre. He has also been Visiting Music Director at Sheridan College and Lakefield College School. In 2010, he co-founded Firebrand Theatre, a touring company whose mission is to bring Canadian stories to life for students and educators in elementary, secondary, and post-secondary schools throughout Canada. For the last two Stratford Festival seasons, Dixon has curated, directed, music directed, and performed in Freedom: The Spirit and Legacy of Black Music (2021) and Freedom Cabaret 2.0 (2022), a history of Black freedom struggle in song. For the 2023 season, he is composing the music for Stratford's production of Alice Childress's play Wedding Band. As an artist of colour, Beau proudly carves the legacy of his Black ancestors into all his work. In 2020, the city of Peterborough honoured Dixon at its second proclamation ceremony for Black History Month.