Western Angels' Demo Day
Date:
Friday, December 3, 2021
Export: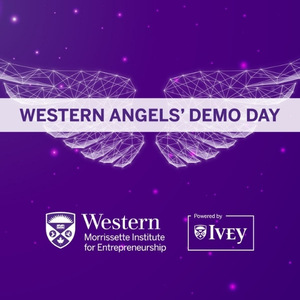 They've dreamed. They've worked hard. They've brought their startups to life. Now these Western and Ivey entrepreneurs are ready to scale, and you can be part of their story.
Western Angels' Demo Day brings together budding entrepreneurs and investors from across our Western University community to form new networks and partnerships that can propel new businesses forward.
This intimate event will feature pitches by five exciting Western and Ivey founded ventures. Each company seeks to raise its first or second investment rounds.
At Western Angels' Demo Day, each venture will be allotted a 10-minute pitch comprised of a 5-minute presentation followed by 5-minutes of questions from investors.
Don't miss out on a day that celebrates everything that entrepreneurship represents: the "a-ha" moment, the team formation, the company generation, first milestones, first customers or revenue.
For more information, visit our website:
https://entrepreneurship.uwo.ca/for-alumni/western-angels-demo-day/