Building your Parent Tool Kit
Date:
Thursday, February 7, 2019
Register by:
Sunday, February 3, 2019
Location:
John George Althouse Faculty of Education Building (FEB)
Room: Auditorium

Export: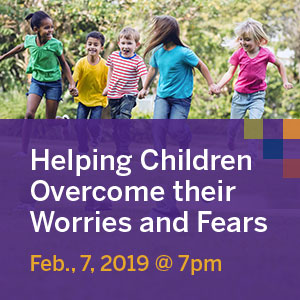 Western alumni and friends are invited to attend a presentation by our guest speaker, Dr. Colin King, PhD, C.Psych, Western Education. This presentation will provide an overview of causes of anxiety in children and youth and strategies to help reduce anxiety. Guests will learn about evidence-based methods that help children learn skills to reduce their distress and confront their worries and fears.
This talk is targeted for parents and caregivers of youth ages 5-18 years of age.
About the speaker, Dr. Colin King
Colin is the Director of the Child and Youth Development Clinic at Western University and an Associate Professor in the Faculty of Education. As a School and Clinical Child Psychologist, he has worked and trained in a variety of hospital, community, private practice, and educational settings working with children and youth with various learning, social-emotional, and behavioural challenges. Most recently, Colin worked as a School Psychologist and as the Coordinator of Psychological Services in the Thames Valley District School Board.
MAP
Parking Details: Free Parking at Elborn College (Lot X). There is paid parking available at Althouse College (Lot H)
Please register online by Sunday, February 3, 2019.
The Child & Youth Development Clinic at Western: Children first for a stronger community
Currently there are thousands of children in the community whose needs are not being met. Following our motto of "Children first for a stronger community", the clinic provides high quality, affordable and comprehensive psychological assessment and intervention designed to understand and enhance the abilities of children and youth ages 3-18. We design evidence-based interventions tailored to meet the specific needs of each child and work collaboratively with families and educators to build a shared understanding of how to best support each child. The CYDC is also self-referring so it is accessible to all.

It is also an interdisciplinary training facility for graduate students in the School and Applied Child Psychology, Clinical Psychology, Speech and Language Pathology, and Social Work programs. These students get real world training, and work together as a team to provide one comprehensive plan for each family. The CYDC enables us to provide a rich and diverse set of services that no single health-care professional can offer.
Western Alumni is committed to accessibility for persons with disabilities. Please contact us if you have any particular accommodation requirements or require information in an alternate format.