Apollo 11 Moon Landing 50th Anniversary @ Cronyn Observatory
Date:
Saturday, July 20, 2019
Location:
Cronyn Observatory (CO)

Export: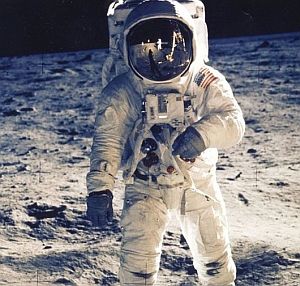 Come and celebrate the 50th anniversary of one of the highlights of human achievement:
The first time humans walked on the Moon!
Our special program will highlight, of course, the Apollo 11 mission and its milestones, but will also focus on the Canadian contributions to the project and Canada's return to the Moon.
Participate in our family-friendly activities starting at 5:00 p.m. Until 8:30 p.m., kids and their family can navigate a lunar crater with a Lego rover, touch a real Moon rock, or experience Apollo 11 in Virtual Reality. Throughout the entire event (until 11:00 p.m.), you can also take a selfie with astronauts Neil Armstrong, Buzz Aldrin, and David Saint-Jacques on the Moon, and enjoy our fun and informative displays about the Moon, Apollo 11, and Canada's contributions. Weather permitting, we'll also offer safe viewing opportunities of the Sun in the afternoon and stargazing in the evening.
In addition, you can also enjoy the following presentations by our experts:
"To the Moon with Apollo"
"On the Moon with Apollo"
"Canada's role in the Apollo project"
"Canada Returns to the Moon"
Finally, you will have a chance to win beautiful Moon-themed prizes in our Lunar raffle draw!
Our program starts at 5:00pm.
Some activities will end at 8:30pm.
Entrance is free, no registration is necessary.
For a detailed schedule of events, visit:
http://physics.uwo.ca/outreach/cronyn/photos/Moon-Landing-50th-Anniversary-Event.pdf