Girls and Women in Astronomy Night @ Cronyn Observatory
Date:
Monday, February 11, 2019
Location:
Cronyn Observatory (CO)

Export: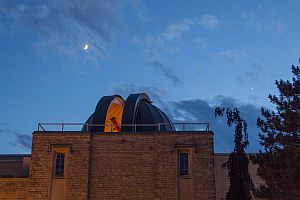 Girls and Women in Astronomy Night
(Sunset 5:50 p.m.)
Join us to help celebrate 'Girls and Women in Astronomy' night at the Cronyn Observatory.
This special event forms part of the International Astronomical Union's 100th Anniversary celebrations (IAU100) encouraging astronomy-specific events to be held all around the globe, in tandem with the United Nations' declaration that 11th February 2019 is the International Day of Women and Girls in Science. Our event is jointly hosted by the Department of Physics and Astronomy and the Centre for Planetary Science and Exploration (CPSX) at Western.
Come and go as you please. Entrance is free.
Location:
The Hume Cronyn Memorial Observatory (search for "Cronyn" on this interactive google map).
Parking:
Parking Information can be found here and on Western's Parking and Visitor Services web page.
Social Media:
Follow the event on Facebook and Twitter.
Activities:

'Ask a Woman Astronomer' Panel
Women in Astronomy Quiz
Short Presentations by Western's female and non-binary astronomers
Stargazing through the Cronyn Observatory's main 25.4 cm refractor and other telescopes
Historical displays at the Observatory
Raffle and Prizes!