Talk by Jane Gallop: The Phallus and its Temporalities
Date:
Friday, April 8, 2016
Location:
Somerville House (SH)
Room: 2348
1151 Richmond Street
London
Export: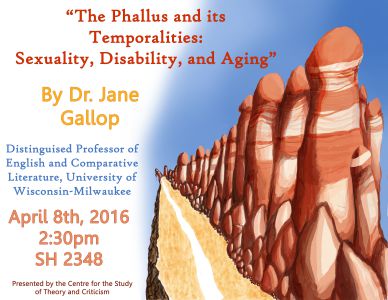 Jane Gallop, Distinguished Professor of English and Comparative Literature at University of Wisconsin–Milwaukee, presents "The Phallus and its Temporalities: Sexuality, Disability, and Aging."
Each year The Theory Centre Speaker Series brings in several visiting guest lecturers. Speakers this year have included Todd May, Michael Clune, Robert Mitchell, Richard Halpern, Adrian Johnston, and many others.
Event Type:
Audience: