Black Canadian Leadership
Date:
Thursday, February 25, 2021
Export: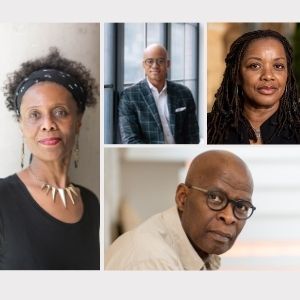 Please join us for an important and inspiring conversation about Black Canadian Leadership featuring Carl James, Amoaba Gooden, and Annette Henry. Our moderator for the afternoon will be David Simmonds.
As part of Black History Month and the ongoing implementation of the recommendations of Western's Anti-Racism Working Group, we welcome an international panel of prominent scholars whose research brings a range of perspectives on the topic, including analysis of leadership styles within organizations, study of practices of African Canadian leadership in the academy, and historical accounts of the role of women in bringing together different communities of African ancestry in Canada.
A key contribution of research on Black Canadian Leadership is its incisive critique of prevailing myths and misconceptions in our society that have deep roots in anti-Blackness and that we must confront as part of our anti-racism work.
David Simmonds - Senior Communications and Corporate Affairs Executive, Visiting Professor, Western's School of Advanced Studies; Senior Advisor, Canadian Centre for the Purpose of the Corporation.
Carl James - Jean Augustine Chair in Education, Community and Diaspora, and Senior Advisor on Equity and Representation in the Office of the Vice President of Equity, York University
Amoaba Gooden - Interim Vice President for the Division of Diversity, Equity and Inclusion, Chairperson of the Department of Pan-African Studies, Kent State University
Annette Henry - David Lam Chair in Multicultural Education in the Faculty of Education, Professor in Department of Language and Literacy Education, and Institute for Race, Gender, Sexuality and Social Justice, University of British Columbia.