Cinema Italiano
Date:
Tuesday, November 13, 2018
Location:
University College (UC)
Room: 1405

Export: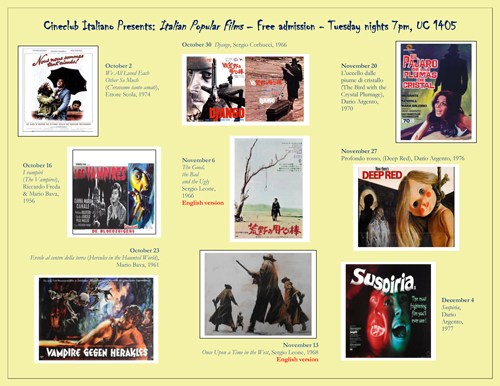 Immerse yourself in a new culture and language through our free international film series. Enjoy a weekly rotation of popular and critically acclaimed films in different languages such as Arabic, German, Italian, Japanese and Spanish. All films have English subtitles and everyone is welcome!
Tuesday, November 6 - The Good, the Bad, and the Ugly, Sergio Leone, 1966 (English version)
Tuesday, November 13 - Once Upon a Time in the West, Sergio Leone, 1968 (English version)
Tuesday, November 20 - L'uccello dalle piume di cristallo (The Birth with the Crystal Plumage), Dario Argento, 1970
Tuesday, November 27 - Profondo rosso, (Deep Red), Dario Argento, 1976
Tuesday, December 4 - Suspiria, Dario Argento, 1977