Summer Shakespeare: Samson Agonistes
Date:
Wednesday, August 1, 2018
Location:
International and Graduate Affairs Building
Room: hill located behind building

Cost:
$15 adults; $10 students/seniors
Export: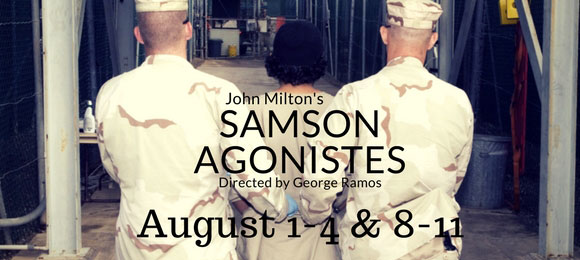 Wednesday, August 1 - Saturday, August 4 | 7:00 pm
Wednesday, August 8 - Saturday, August 11 | 7:00 pm
TICKETS: $15 adults/$10 students and seniors (available at the door)
Set in a twenty-first century Guantanamo Bay-style military prison, this year's Summer Shakespeare is a provocative, world premiere modern-dress version of Milton's dramatic retelling of the biblical strongman's captivity and final catastrophe. Milton's play evokes terror and tragedy when Samson destroys the Philistine temple, killing unarmed civilians. This production reflects upon the interplay of violence and religion across the centuries.s.