Conference: Women Intellectuals in 18th Century Germany
Date:
Friday, October 20, 2017
Location:
Stevenson Hall (STvH)
Room: 1145

Export: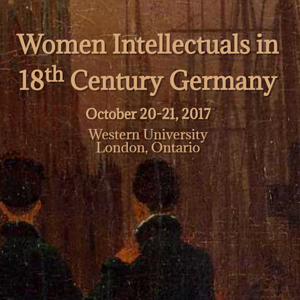 About the Conference:
Women Intellectuals in 18th Century Germany will bring together an interdisciplinary and international group of scholars with the principal aim of detailing the rich philosophical contributions by German women intellectuals in this period. The conference will feature presentations by a variety of experts in the history of 18th century German philosophy, language, and culture, drawn from institutions in Canada, the US, Germany, Austria, Italy, and France. At a time when contributions by women in the history of philosophy (such as Émilie du Châtelet, Margaret Cavendish, and Anne Conway) are generating unprecedented scholarly interest, this conference will shed light on the distinctive but no less important contributions of women to the philosophical scene in Germany and thereby bring more general scholarly attention to the philosophical works and legacy of women in this period.
Please notify the principal organizer (Corey W. Dyck) if you're planning to attend the conference. There are no registration fees and attendance is open to the public.
Event Type:
Audience:
Department: