Queer Research Day 2017
Date:
Wednesday, April 19, 2017
Location:
Stevenson Hall (STvH)
3101

Export: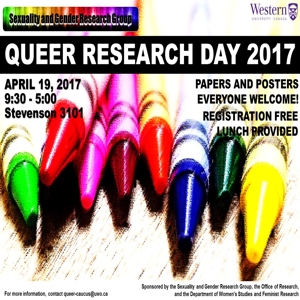 A showcase of queer research across all disciplines at Western!
The Sexuality and Gender Research Group will be holding the seventh annual Queer Research Day on Wednesday, April 19 from 9:00-5:00. We welcome both papers (15 - 20 minute oral presentations) and posters. We also welcome proposals for artists' performances, film screenings, musical events, and other forms of queer work taking place on campus or in the local community.

We will be holding QRD 2017 in Stevenson 3101, as well as locating the poster display in the area outside. Lunch will be provided. Everyone is welcome!

Faculty and graduate students are welcome to participate or just to attend. If you are interested in presenting, please email a brief abstract with title or a brief description of your paper, poster or other proposal to Wendy Pearson (wpearson@uwo.ca). We hope to include presentations on a wide variety of topics from a broad range of disciplines. The deadline for receiving proposals is April 10, 2017.