Research Storyteller Summit
Date:
Wednesday, November 30, 2022
Location:
Arthur & Sonia Labatt Health Sciences Building (HSB)
Room: 232

Export: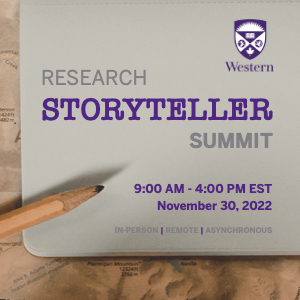 Whether you are preparing a funding proposal, writing a journal article for publication, discussing your study with a journalist, presenting at a conference, or briefing policymakers, you are ultimately telling a story. Join us for a special, one-day masterclass on using narrative to articulate research clearly, compellingly, and effectively across the research lifecycle — with funders, reviewers, knowledge users, media, and the public. Register to attend in person, remotely, or asynchronously (post-event). Free for all Western faculty, staff, postdocs, and students.
Audience:
Department: