The Global Impact of Ghanaian Music with Professor Gavua
Date:
Monday, February 28, 2022
Location:
Online via Zoom

Export: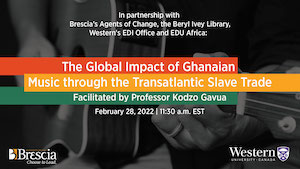 The Office of EDI and Brescia University College present The Global Impact of Ghanaian Music through the Transatlantic Slave Trade. The transatlantic slave trade was a devastating time in African history. Lives, families and many aspects of culture were affected. Students have an opportunity to look into this time in history focusing on the movement of music and the influence of Ghanaian music through this time. Ghanian music now lays the foundation of our modern music around the world stemming from this dark time in history. Students engage through discussions, questions and polls with Professor Kodzo Gavua as he brings to light the global journey of Ghanaian music and the impact on contemporary music today. Professor Kodzo Gavua is an ethnographer, an archeologist and a musician. He is now working as an Associate Professor of Archaeology and Heritage Studies at the University of Ghana.
Host:
The Office of Equity, Diversity and Inclusion
Event Type: