Show Your Local Love Fest - United Way Kick-off
Date:
Thursday, October 10, 2019
Location:
University Community Centre (UCC)

Cost:
$5 donation for chili
Export: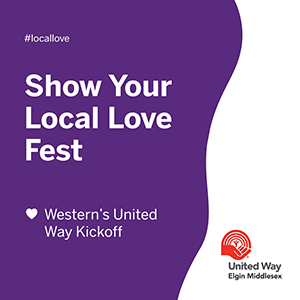 Stop by Western's Official United Way Campaign Kick Off on Concrete Beach. Hear some live music, grab a bowl of chili and some amazing corn bread ($5 donation), meet with some community-minded vendors and soak up that community feeling that comes from working together for a great cause. Short opening remarks by President Alan Shepard at 11:35 a.m. Remember to bring a pair of new or gently used boots for the GenNext "Give Cold Feet the Boot" Campaign.