Love, Henri — A Dramatic Presentation with Music
Date:
Thursday, November 8, 2018
Location:
Brescia University College (BUC)
Room: St. James Auditorium

Export: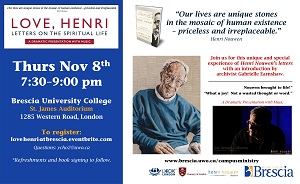 Henri Nouwen's Archivist, Gabrielle Earnshaw, and actor Joe Abbey-Colborne create a unique experience – part lecture and part performance – that offers a rich introduction to the wisdom and compassion of Henri Nouwen, as they take us – accompanied by musician Krystyna Higgins – through readings of some of Nouwen's most personal and compelling letters.
Henri Nouwen was perhaps the most popular and influential spiritual writer of the late twentieth century. With an extraordinary capacity to reach wide audiences across the religious, cultural, and political spectrum, Henri touched millions through his books, lectures, and workshops. His books have been published in more than 28 languages and have sold over eight million copies.
Refreshments and book signing will follow.
This event is free, with donations accepted at the door.