Before you Sign: Know your Academic Publishing Rights
Date:
Tuesday, October 23, 2018
Time:
10:30 am - 12:00 pm
Location:
The D.B. Weldon Library (WL)
Room: TSC Room 121

Export: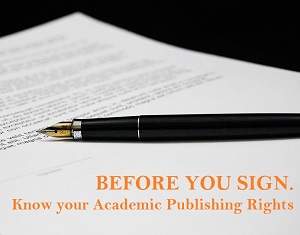 This hands-on workshop empowers participants to understand and exercise their rights as authors. Attendees will have an opportunity to compare publication agreements, learn about tools and best practices for self-archiving, and explore how your rights as an author can help make your work more open. The following FAQ's will be addressed: Who holds the copyright? Can I post my work across various sharing platforms? Where can I post my work? How can I make my work more open?
Event Type:
Audience:
Department: