OE3C 2023 Panel: Surviving the Anthropocene
Date:
Saturday, May 27, 2023
Location:
Online via Zoom

Export: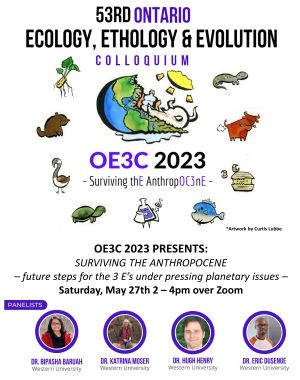 Marked by unprecedented human-made global disruption, the Anthropocene presents existential threats that have never been encountered before. Global warming, biodiversity loss, rising sea levels, and climate-change-induced human displacement are just some of the many challenges we will continue to face.
Amidst this uncertain and tumultuous background, what are the future steps for Ecology, Ethology and Evolution? Tune in for this panel discussion on "Surviving the Anthropocene: future steps for the 3 E's under pressing planetary issues".