WSLP Sustainable Fashion Forum
Date:
Thursday, November 25, 2021
Export: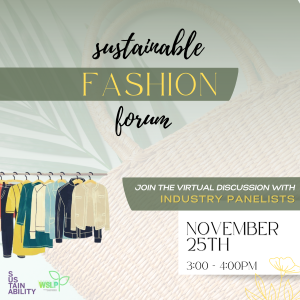 Open to all. The Western Sustainability Leaders Program (WSLP) Sustainable Fashion Forum features industry panelists who will lead discussion on the possibilities of sustainable fashion choices, and the social and environmental impacts of fast fashion.
Panelists include:
Indra Bishnoi - this year's London Environmental Network's green leader in the youth category. Indra was the leading voice in the first UWO climate emergency declaration passed at the graduate level. Now, she works in the field of intersectional environmentalism creating an eco-friendly South Asian fashion brand focused on educating the communiity on environmental stewardship and the endless possibilities of sustainable fashion.
Iris Chen - with the goal of empowering consumers to hold corporations to higher ethical standards, Iris founded Monest - a product that analyzes the social and environmental impact of brands based on company specific metrics, policies and supply chain practices. Focusing on brands at the forefront of the apparel industry, Monest scores performance across Diversity and Inclusion, Worker Exploitation, Waste and Pollution, and Ethical Sourcing metrics.