Art Now! Presents: Catherine Telford-Keogh
Date:
Thursday, March 22, 2018
Location:
North Campus Building (NCB)
Room: 113

Export: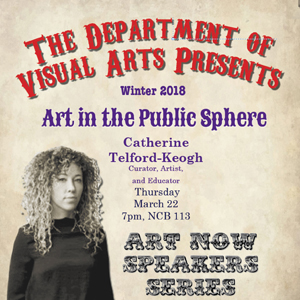 Art Now! Speakers' Series Presents Art in the Public Sphere Winter 2018
With Special Guest Catherine Telford-Keogh, Curator, Artist and Educator
Catherine Telford-Keogh is an artist currently based in Toronto. She earned her MFA in Sculpture from Yale (2011), MA in Women, Gender and Sexuality Studies from Yale (2013) and BA in Fine Art from the University of Waterloo. Her work examines the visual and material language of objects and their relationship to the body through sculpture and video. Selected exhibitions include Roberta Pelan, Toronto, ON; Seattle Art Museum, WA; Bronx Museum, NYC; The Alice, WA; NY Art Book Fair at MOMA PS1; Baby's All Right, Brooklyn, NYC; Greenpoint Film Festival, Brooklyn, and a forthcoming project at Evans Contemporary in Peterborough with Troy Michie. She participated in the AIM artist residency at the Bronx Museum in New York in 2013.
The Department of Visual Arts at Western University is pleased to present the Art in the Public Sphere series of speakers and exhibitions. This important series provides unique opportunities to engage with local, national, and international artists, curators, and scholars. All events hosted at Western University are free and are open to the public. The Winter 2018 series is organized by Prof. Colin Carney as part of ongoing academic offerings at the Department of Visual Art at Western University.