Art+Feminism Wikipedia Edit-A-Thon
Date:
Saturday, September 23, 2017
Location:
John Labatt Visual Arts Centre (VAC)

Export: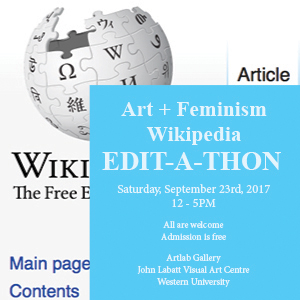 Art+Feminism Wikipedia Edit-A-Thon
Saturday September 23rd from 12-5pm
In conjunction with the alumni based exhibits, we will be hosting a collaborative one-day Art+Feminism Wikipedia Edit-A-Thon event inside the Artlab Gallery. Organized in collaboration with Forest City Gallery this Wiki event welcomes visual arts alumna Siân Evans (MA, Art History, 2007) who will speak about her involvement in founding and organizing the internationally lauded "Art+Feminism Wikipedia edit-a-thons."
We invite people of all gender identities and expressions, particularly transgender, and cisgender women, to address this absence by inserting Wikipedia entries on art and feminism.
About the Artlab Gallery
Located in the John Labatt Visual Arts Centre, Western University, the Artlab Gallery is a vital component of the Department of Visual Arts. Established in 1994 the gallery focuses on exhibitions, events, and projects that respond to social and cultural issues, supporting the research, and practice of students, faculty and artists from the region and beyond. The work presented in the gallery explores conceptual and experimental production incorporating a diverse range of mediums and methods.
Artlab Gallery
John Labatt Visual Arts Centre
Western University
London, ON, N6A 5B7
Web: http://www.uwo.ca/visarts/artlab/
Email: artlab@uwo.ca
Facebook: https://www.facebook.com/artLabGallery.WesternU
Twitter: https://twitter.com/artlab_gallery
GALLERY HOURS
Monday to Friday > 12noon – 5pm & Thursday > 12- 8pm
The Artlab Gallery & Cohen Commons are wheelchair accessible.
Admission to all areas is FREE. All are welcome.
Host:
Department of Visual Arts - Artlab
Event Type:
Audience:
Department: