Western Film: ALADDIN
Date:
Tuesday, August 13, 2019
Location:
University Community Centre (UCC)
Room: McKellar Theatre

Cost:
$4.25 for students, $5.50 for non-students, $4.00 for children. Tuesdays are $3.25 for students and $4.00 all others.
Export: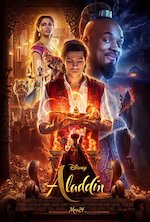 ALADDIN
Playing: AUG 9 - 22
(No shows Sunday or Monday)

7:00 pm
138 minutes.
A street rat frees a genie from a lamp, granting all of his wishes and transforming himself into a charming prince in order to marry a beautiful princess. But soon, an evil sorcerer becomes hell-bent on securing the lamp for his own sinister purposes.
Event Type:
Audience:
Department: