Western Film: ISN'T IT ROMANTIC and THE UPSIDE
Date:
Tuesday, April 16, 2019
Location:
University Community Centre (UCC)
Room: McKellar Theatre

Cost:
$4.25 for students, $5.50 for non-students, $4.00 for children. Tuesdays are $3.25 for students and $4.00 all others.
Export: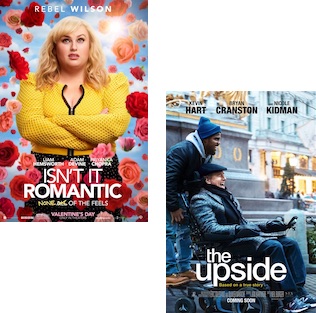 ISN'T IT ROMANTIC
Playing: APR 12 - 18
(No shows Sunday or Monday)

7:00 pm
100 Minutes
Australian-born Natalie (Rebel Wilson) works hard at the offices of Langley & Byron Architects in New York City. Although she loved romantic comedies when she was young, she now believes they're lies, because her mother told her things like what happened in those movies don't happen to girls like her.
Now a complete cynic, she decides to try to stay open to the possibility of love on the advice of a co-worker. Unfortunately, that makes her a prime target for a mugger in the subway. Thinking he wants to get to know her, she's dismayed when, after introducing himself, he grabs her purse and makes a run for it. She gets it back, but is knocked out cold in the process. When Natalie wakes up in the hospital, she discovers to her amazement that her life has suddenly become a romantic comedy in which she's the leading lady, complete with a hot Australian leading man (Liam Hemsworth).
THE UPSIDE
Playing: APR 12 - 18
(No shows Sunday or Monday)

9:00 pm
126 Minutes
When Park Avenue billionaire Phillip Lacasse (Bryan Cranston) is paralyzed after a hang-gliding accident, he hires unqualified ex-con Dell Scott (Kevin Hart) as his caretaker. Phil, who recently lost his wife to cancer, has lost the will to live and Dell is the best candidate to carry out the Do Not Resuscitate edict he's asked for, should his health deteriorate.
Although they come from two completely different worlds and backgrounds, Phil and Dell form an unlikely friendship, with Phil introducing Dell to high society with opera, fast cars and art and giving him stable financial footing with decent paychecks, while Dell shares with his employer the music of Aretha Franklin, and the tastiness of hot dogs and soft serve ice cream.
Based on the hit French movie The Intouchables.
Event Type:
Audience:
Department: