Epidemiology and Biostatistics Seminar Series
Date:
Friday, September 13, 2019
Location:
Kresge Building (KB)
Room: K203

Export: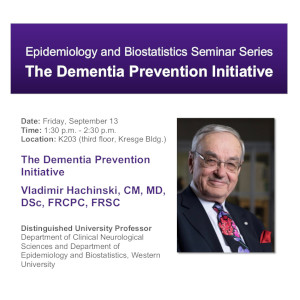 The Dementia Prevention Initiative Presented by Vladimir Hachinski, CM, MD, DSc, FRCPC, FRSC Distinguished University Professor Department of Clinical Neurological Sciences Department of Epidemiology and Biostatistics Western University.
Coffee and tea will be provided, beginning at 1:00 p.m. To reduce waste, guests are encouraged to bring a reusable mug or cup to the seminar.
All are welcome.
Department: