Parsons and Poole Concert: Yekwon Sunwoo, piano
Date:
Friday, October 27, 2023
Location:
Music Building (MB)
Room: von Kuster Hall

Export: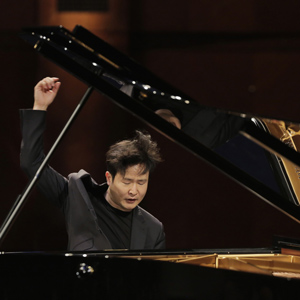 We are honoured to welcome internationally renowned pianist Yekwon Sunwoo as the guest artist for this year's Parsons and Poole Concert and Masterclass.
Gold medallist of the Fifteenth Van Cliburn International Piano Competition, Yekwon Sunwoo has been hailed for his "unfailingly consistent excellence" (International Piano) and celebrated as "a pianist who commands a comprehensive technical arsenal that allows him to thunder without breaking a sweat" (Chicago Tribune). A powerful and virtuosic performer, he also, in his own words, "strives to reach for the truth and pure beauty in music".
A public masterclass with Western music students follows, the next morning.
Pricing and ticket availability TBA.
Photo credit: Carolyn Cruz
Sign up for the Don Wright Faculty of Music events email to be notified of all planned events during the regular concert season (September – April), plus our official season announcement planned for late August.
Event Type:
Audience:
Department: