Artist-in-Residence: Masterclass with Scott St. John
Date:
Tuesday, January 24, 2023
Location:
Music Building (MB)
Room: von Kuster Hall

Export: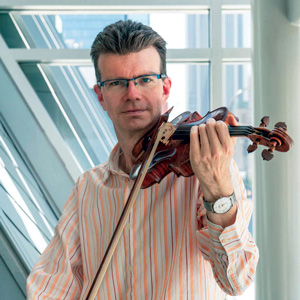 Please join us in person as we continue our proud tradition of sharing music with the community.
Artist-in-Residence Scott St. John will give a chamber music masterclass with student trios from the Don Wright Faculty of Music, including the winners of this year's Young-Ja Park Chamber Music Award.

Planned program:
Trio-Suite (for violin, viola and piano), Hans von Koessler (1853-1926)
Varied Trio, Lou Harrison (1917-2003)

i: Gending
ii: Bowl Bells
iii: Elegy
iv: Rondeau, in honor of Fragonard
v: Dance
End time is approximate.
---
Joining us on campus for an in-person event at Western's Don Wright Faculty of Music? Check our Audience Information webpage before you leave home for always-up-to-date general information, including health and safety protocols.
Sign up for our monthly email to be notified of all planned events and for notifications of schedule changes.
Event Type:
Audience:
Department: