Voice Fridays presents Q&A with Inuk Soprano Deantha Edmunds
Date:
Friday, September 30, 2022
Location:
Talbot College (TC)
Paul Davenport Theatre

Export: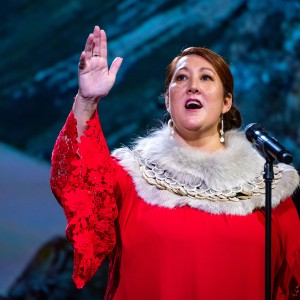 Following this week's special "Fridays at 12:30" Concert commemorating the National Day for Truth and Reconciliation, Drs. Moynan King and Raj Singh, postdoctoral fellows, will lead a Q&A with Inuk Soprano Deantha Edmunds and composers Spy Dénommé-Welch and Catherine Magowan following the presentation of RADAR and Sojourn.
All are welcome to attend. No pre-registration required. End time approximate.
This session is presented by Voice Fridays, a weekly symposium led by the Voice Division at the Don Wright Faculty of Music for singers including masterclasses, lectures, performances and seminars.
Photo credit: Sgt Mathieu St-Amour, Rideau Hall © OSGG, 2021
Reproduced with permission of the Office of the Secretary to the Governor General, 2022.
Joining us on campus for an in-person event at Western's Don Wright Faculty of Music? Check our Audience Information webpage before you leave home for always-up-to-date general information, including health and safety protocols.
Sign up for our monthly email to be notified of all planned events and for notifications of schedule changes.
Event Type:
Audience:
Department: