Special Event: Terry Riley's "In C"
Date:
Saturday, September 24, 2022
Time:
11:00 am - 11:45 am
Location:
Talbot College (TC)

Export: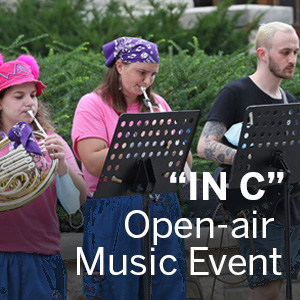 Be part of this unique celebration of music and community during Homecoming weekend! Join Western alumni, students, faculty and staff for a plein air performance of Terry Riley's "In C". This chance composition will see musicians performing across campus, thanks to the organization of Sharon Wei, violist and faculty member of the Don Wright Faculty of Music, and undergraduate violist Meika Sonntag as part of a 2022 Undergraduate Summer Research Internship.
We are anticipating over 150 musicians who will be fanned out in various locations across campus to perform the joyous sounds of this piece.

For more information about this special event, please click here.
IMPORTANT! To prioritize pedestrian safety during Homecoming, all roads and parking lots adjacent to the Don Wright Faculty of Music are closed. Performers will need to access campus via University Hospital entrance (Richmond Gates and Philip Aziz Drive next to Alumni Stadium will be closed on Saturday) and the closest open parking lots are Middlesex, Visual Arts and Chemistry. Audience members may choose to park at any open lot on the map below, with a shuttle service from Western Alumni that will run across campus from 9am - 1:15pm. Please leave ample time to travel to campus. All open parking lots are free of charge.
View Western Alumni parking and shuttle map
View Western University campus road and parking lot closures
---
Joining us on campus for an in-person event at Western's Don Wright Faculty of Music? Check our Audience Information webpage before you leave home for always-up-to-date general information, including health and safety protocols.
Sign up for our monthly email to be notified of all planned events and for notifications of schedule changes.
Event Type:
Audience:
Department: