Livestream: Online Choral Celebration
Date:
Thursday, June 3, 2021
Export: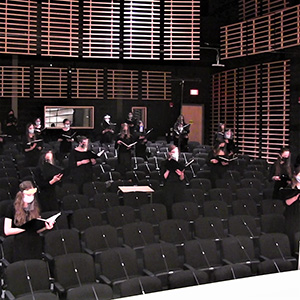 Join us live online together as all choirs virtually unite to celebrate the music made during 2020-21. Featuring all four Don Wright Faculty of Music choirs - Western University Singers, Les Choristes, Chorale, and St. Cecilia Singers.
2020-21 Western University Choir Conductors: Mark Ramsay, Patrick Murray, Gloria Gassi, Kathleen Allen
Featuring select choral performances from the past year, recorded at varying stages of COVID-19 restrictions.
Join the Western choral community on June 3 from 7:30-8:30pm at https://music.uwo.ca/events/livestream for the shared wide release.
Can't make it on June 3? Recording will be available for a limited time from June 4 to June 9 only via https://livestream.com/dwfom
Download program: https://music.uwo.ca/events/img/livestream-programs/2021-06-03-choral-celebration-livestream-program.pdf
Learn more about Choirs at Western
Event Type:
Audience:
Department: