Stories We Tell Ourselves Opening Reception
Date:
Thursday, January 19, 2023
Location:
McIntosh Gallery (MG)

Export: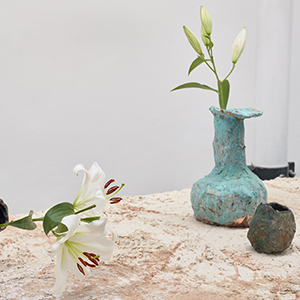 Stories We Tell Ourselves
Aseel AlYaqoub, Sameer Farooq & Mirjam Linschooten, Jacqueline Hoàng Nguyễn, Emii Alrai
January 19 – March 18, 2023
Opening Reception: Thursday, January 19 from 5:00 to 7:00 p.m.
Curated by Matthew Kyba
Join us at the opening reception of Stories We Tell Ourselves, a group exhibition conceptualized by guest curator Matthew Kyba questions how the museum's history as a colonial tool for Western pedagogy influences the stories we tell. To elucidate the unseen politics within the display systems and political agendas of cultural institutions, the four featured artists/artist duos appropriate various museological practices—collection, didactics, video, sculpture, presentation techniques and artifacts—to self-referentially question how such institutions dictate politicized stories. Stories We Tell Ourselves undermines the museum's colonial past and current pedagogy by probing how these settings shape public opinion and social understanding of different histories and contemporary conditions.
More information at: www.mcintoshgallery.ca
Image: Emii Alrai, Passing of the Lilies (detail), Jerwood Solo Presentations, Jerwood Arts, London. 2021. Photography courtesy of Anna Arca.
McIntosh Gallery
1151 Richmond Street
London, ON, N6A 3K7
Facebook / Twitter / Instagram: @McIntoshGallery
Monday to Friday: 10 AM – 5 PM
Saturday: 12 PM – 4 PM
McIntosh Gallery offers free admission to all exhibitions
We regret that McIntosh Gallery is not wheelchair accessible